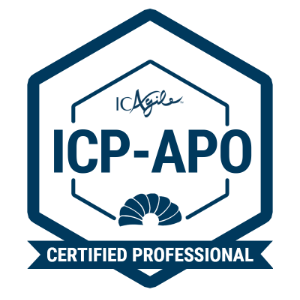 Intermediate
Practice proficiency
Certification Cost
Credentialing cost is included in the course tuition.
Examination Process
Although there is not an ICAgile official exam, ICAgile allows for their course accreditors to determine appropriate means for retention of the learning outcomes. Depending on your provider, there may be some type of assessment in order to earn the credential.

Many providers assess via participation, activity and understanding conveyed via exercises and discussion, withholding the credential when appropriate.
Training Required
Successfully complete an ICAgile accredited course taught by an ICAgile Authorized Instructor. Typically, training providers will cover the required learning outcomes for this certification in approximately 14-21 hours of instructional activities over the course of two to three days.

ICAgile Authorized Instructors can withhold certification based on lack of participation or understanding of course learning outcomes.
ICP-APO
ICAgile Certified Professional - Agile Product Ownership
Overview
This certification focuses on value-driven software delivery, the accompanying mindset, and key agile practices designed to emphasize customer value. It also looks at creating organizational and team environments conducive to frequent and transparent collaboration between the business and development teams. The Learning Outcomes highlight specific techniques and practices such as lightweight requirements, prioritization methods, progressive elaboration, product/project roadmapping, story mapping, effective user stories, and acceptance criteria. Participants who complete this certification will gain an excellent foundation in value-based agile solutions delivery. Typically, training providers will cover the required Learning Outcomes in approximately 14 hours of instructional activities over the course of two days.
Target Audience
Relevant roles include Business Analysts, Product Owners, Product Managers, Business Subject Matter Experts, or anyone aspiring to these roles. Also, anyone with a curiosity about agile approaches to value-driven software delivery will benefit from this certification.