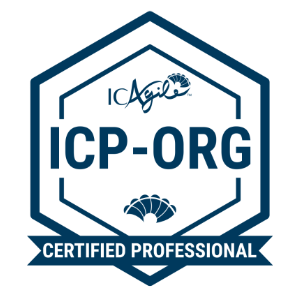 Intermediate
Practice proficiency
Certification Cost
Credentialing cost is included in the course tuition.
Examination Process
Although there is not an ICAgile official exam, ICAgile allows for their course accreditors to determine appropriate means for retention of the learning outcomes. Depending on your provider, there may be some type of assessment in order to earn the credential.

Many providers assess via participation, activity and understanding conveyed via exercises and discussion, withholding the credential when appropriate.
Training Required
Successfully complete an ICAgile accredited course taught by an ICAgile Authorized Instructor. Typically, training providers will cover the required learning outcomes for this certification in approximately 14-21 hours of instructional activities over the course of two to three days.

ICAgile Authorized Instructors can withhold certification based on lack of participation or understanding of course learning outcomes.
ICP-ORG
ICAgile Certified Professional - Adaptive Org Design
Overview
The traditional pyramid hierarchy existed to solve specific problems in the workplace. With the shift to more agile ways of working, organizations need a structure that will respond and adapt quickly to new challenges and the world around them. We need to find ways to break down divisional walls and increase opportunities for people in different areas to work collaboratively. Additionally, there is a need to align the organization around the flow of work through the system and reduce bureaucracy to optimize value delivery throughout the entire organization. This set of Learning Outcomes focuses on the concepts behind, and reasons for, adaptive organization design.
Target Audience
This certification was specifically designed for senior leaders and senior HR professionals working in organizations on a business agility journey.